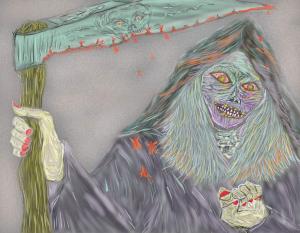 Nothing Left

White walls all around
prison cell
looked up, no sound.
My mind
lying on the ground.
A slave to my dreams
chained and bound.
Will I live or will I die
before I'm found?
Damned and cursed
for my addiction
I am crowned.

Not a king.
Rot in hell
never tell
what's that smell?
Burning flesh
sold my soul
next comes death.
My prince of darkness
Sir Crystal Meth

Too young to die
and yet I try
To never lie.
No more tears
I hear their cries
Why! Why! Why!

Violent screams
shattered dreams.
I have no fear
death so near.
Now I hear
The demons cheer.

Suicide mission is a must!
Something I crave,
something I lust.
No one now
who do I trust?
My only friend
P.C.P. A.K.A.
Angel Dust

Now I am free ready to soar
step out on the ledge
and close the door.
No it's not over
yes there is more.
I'm a bastard child
no father,
my mothers a whore.
The darkness has fallen
the light is no more.

The rage inside me
adds fuel to my fire.
It is my life
this is what I desire.
So many drugs
I can't get any higher!
The voices screaming
your such a liar!

I Put the gun in my mouth
now I am free.
My brains splattered
for all to see.
Finally I'm given
the golden key
In hell I smile
for eternity!