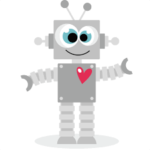 I don't Eat - I don't Sleep,
I don't Ache - I don't Weep.
Have Warranty - Honored by Others,
Don't ever Fight with Sisters or Brothers.
Never get Old - Just little Bit Worn,
With newest Updates - truly Reborn.
Life, and Its Problems, Don't worry Me None,
Some WD-40 - I'm Ready for Fun.
All things Considered I might Simply Add,
Life as a Robot isn't that Bad.